Be Love is a Japanese manga magazine published by Kodansha. With its debut in September 1980, it is the first manga magazine for adult women, and is one of the leading manga magazines that target women.
When it first came out, its name was Be in Love, but it received its current name in 1982. From 1995-2000 sales were at around 270,000-280,000 per issue. In 2009, it had a circulation of 173,125.
The magazine was instrumental in the rising popularity of josei manga in the 1980s, which led to the creation of other magazines targeted at women such as You and Big Comic for Lady. As of 1997, the magazine's readers are mostly working women and housewives, but students made up 8% of readership in that year.
The topics covered by its manga mostly tackle real-life situations, and range from work-related subjects like food service and home care, to historical period romance, to pets, as well as games like karuta.
Chihayafuru on the Cover[2]
Current series in publication[3]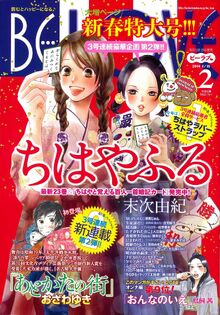 Seitoshokun ― The final chapter - Journey ― by Yōko Shōji (生徒諸君! ―最終章・旅立ち―) (庄司陽子)
Chihayafuru by Yuki Suetsugu (ちはやふる) (末次由紀)
Chihayafuru chūgakusei-hen by Oto Tōda (ちはやふる 中学生編) (遠田おと)
Showa Fanfare by Rikachi (昭和ファンファーレ) (リカチ)
Peach Girl Next by Miwa Ueda (ピーチガールNEXT) (上田美和)
Sanju Mariko by Yuki Ozawa (傘寿まり子) (おざわゆき)
Boku no suwaru rashi jinsei by Mizuho Aimoto (ぼくの素晴らしい人生) (愛本みずほ)
Watashitachi wa doka shiteiru by Natsumi Ando (私たちはどうかしている) (安藤なつみ)
Mahiro no poreboron by Nozo Itoi (真昼のポルボロン) (糸井のぞ)
Kumo Ichizoku to Doro Girl by Emi Mitsuki (雲一族と泥ガール)(三月えみ)
Hana Koi shonen by Narumi Shigematsu (花コイ少年) (重松成美)
Su to tai-chan by Kanata Konami (スーと鯛ちゃん) (こなみかなた)
Okoshiyasu, Chitse-chan by Yukiko Natsume (おこしやす、ちとせちゃん) (夏目靫子)
Hōkago Karute by Mayu Nissei (放課後カルテ) (日生マユ)
Happy! Happy♪ by Nobuko Hama (ハッピー!ハッピー♪) (波間信子)
Otomurai-san by Noriko Otani (おとむらいさん) (大谷紀子)
Shikatsushi by Aki Morino (屍活師) (杜野亜希)
Tori onna by Masami Watanabe (とりおんな) (渡部まさみ)
Asameshimae Akawari! by Komanyū Kita (あさめしまえおかわり!) (北駒生)
(one-shot) Gōgai! Iwate chaguchagu shinbun-sha by Aruto Asuka (ゴーガイ! 岩手チャグチャグ新聞社) (飛鳥あると)
Couverture by Yuki Suetsugu (クーベルチュール) (末次由紀)
Hakoniwa Heaven by Mao Hashiba (箱庭ヘブン) (羽柴麻央)
Ishutare no Musume ~Ono Aisuden~ by Rikachi (イシュタルの娘 ~小野於通伝~) (大和和紀)

As of: January 15, 2018
References
Community content is available under
CC-BY-SA
unless otherwise noted.