Rain Takes Longer to Dry is the 35th episode of Chihayafuru.
Summary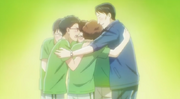 Whilst Misuzawa begin their match against Yamaguchi Mioka, a distinguished school, the judging committee discusses what to do concerning Arata's violation, with Arata feeling he should accept what punishment they decide. As Chihaya struggles against Mioka due to their random card placement and knowledge that they gained from doing quiz shows, she spots Shinobu watching from outside and gets her drive back. As Shinobu learns of Arata's situation, she pleads with the judges to let him participate in the individuals. After focusing on their strengths and weaknesses, Misuzawa manage to win their round and advance. Chihaya hears about Arata from Sumire, but Taichi insists she focus on the matches ahead. As the group consider including Tsutomu for the next match, Yusei suggests they use the same playing order.
Poems of the Episode
Characters
In order of appearance:
Movies

Movie

1  •  2  •  3
Community content is available under
CC-BY-SA
unless otherwise noted.