Omi Jingu (近江神宮 Omi Jingu) is a shinto shrine on Shiga Area, 1-1, Jingu-cho, Otsu city 520-0015. Omi Jingu is dedicated to Emperor Tenji (626-671), the 38th emperor of Japan.
History
The proposal for this shrine to Emperor Tenji was first considered by Japanese Diet in 1908. The construction of the shrine started in 1937 and was finished by November 7, 1940.
Karuta
Two karuta tournaments take place here every new year. A master tournament (Karuta Matsuri) takes place here every January, on the first Saturday and Sunday after the New Year holiday. The national championship for high school students is held every July.
The tournament takes place here as Emperor Tenji, to whom the temple is dedicated, has composed one of the Ogura Hyakunin Isshu (Hundred Poet) poems used in karuta.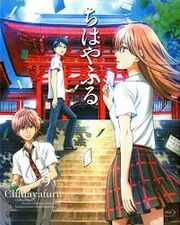 Clock Museum
The shrine is also known for creating a water clock system called rōkoku. It was first introduced by the emperor Tenji in 671. In the precincts of this shrine, the Omi Jingu Clock Museum displays various clocks centering on roukoku and Japanese clocks.
Community content is available under
CC-BY-SA
unless otherwise noted.